July 24, 2018
Posted by:

Evolution Studios

Category:

News
What's New This Week at Evolution Studios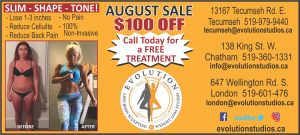 This week is the last week to take advantage of the July Special! Starting August 1st we are having our biggest sale of the year ALL PACKAGES $100 OFF!!!! That's right you heard it here first!
Do not miss this opportunity — it does not happen often.
CALL NOW TO PREBOOK YOUR SALE PACKAGE.
CHATHAM: 519-360-1331
TECUMSEH: 519-979-9440
LONDON: 519-601-5476
Recipe of the Week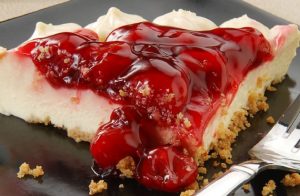 No-Bake Graham Cracker Cheesecake
This is a delicious, light, refreshing dessert. It's low cal/sugar and can be made with the lite pie filling in any flavour. Note that this needs to be made the night before to soften the graham crackers.
Ingredients
           Low-Fat Graham Crackers
8 oz. fat free cream cheese (softened)
1 small box instant vanilla pudding (sugar free)
1 can lite cherry pie filling (or any flavor)
Directions
Line the bottom of a 9 x 13 pan with whole graham crackers. Beat the cream cheese until smooth. Add milk and lemon juice to the cream cheese and beat until smooth. Stir in pudding mix, then fold in Cool Whip.
Spread 1/2 of cream cheese mixture over graham crackers. Repeat with another layer of graham crackers and cream cheese mixture. Spread pie filling over top.
Refrigerate overnight for graham crackers to soften. Enjoy 🙂
Makes approx. 20 servings
Transformation Tuesday
July 2017 – July 2018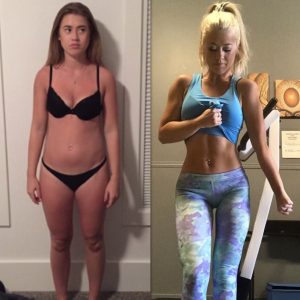 Take advantage of our August promotion and stock up on those packages!!! There is no limit — you can purchase as many as you'd like. This is our biggest sale of the year; tell your sister, tell your best friend, tell a stranger on the street!!!
LOSE 1-3 INCHES & BURN 350 CALORIES EVERY SESSION.
WHAT ARE YOU WAITING FOR!?
__________________________________________________
LOCATIONS:
Chatham 519-360-1331
Tecumseh 519-979-9440
London 519-601-5476