July 5, 2018
Posted by:

Evolution Studios

Category:

News
What's New This Week at Evolution Studios?
Using our Hypervibe Vibration platform our clients are  burning 350 calories in only 10 minutes!!! Bye bye hour long work outs hello 10 minutes 2 times a week!!
Recipe of the Week
Do you know how many calories are in your favorite summer drinks?
Red Wine 250 ml Glass 170-210 Calories
White Wine – Medium 250ml Glass 185 Calories
Coors Light 102 Calories
Budweiser 145 Calories
Pina Colada 245 Calories
Caesar with Vodka (Sodium 564 very high) 286 Calories
Drinking in moderation and making smart drinking choices can make it easier to stay on track. Remember to drink 1 full 500ml glass of water between drinks, to keep your body hydrated. Use Diet pop  or do spritzers  to cut calories.

Cucumber Melon Gin Spritzers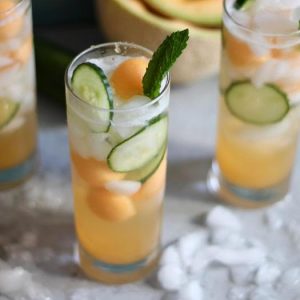 Cucumber melon isn't just a legendary Bath and Body Works scent—it's a delicious combo for summer, when both foods are in season. Not to mention, cucumbers and cantaloupe are two of the most hydrating fruits.
Ingredients
For the melon
1

c.

water

1/2 cup Spenda

2

c.

cantaloupe cubes or balls
For the cocktail
1.5

oz.

gin

 

250ml Diet Ginger Ale




melon balls/cubes

cucumber slices

ice

fresh mint
Instructions
In a small saucepan, bring the water and splenda to a boil. Let boil for 30 seconds, remove from heat, and let cool completely. Once cooled, add to a blender or food processor with the cantaloupe cubes/balls. Blend until completely smooth.

To make the drink, add ice to a cocktail shaker along with a fresh mint leaf. Add the Add diet Ginger ale and gin, and shake for 30 seconds. Fill glass with ice, a few melon balls and cucumber slices, and then pour in the drink.  Stir to combine, and garnish with mint, and extra cantaloupe/cucumber slices!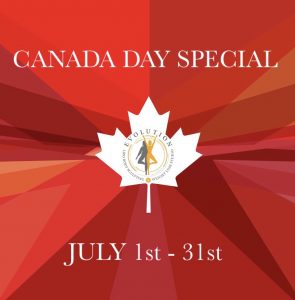 Canada Day Special is ON NOW for the ENTIRE MONTH OF JULY. Don't miss out on this amazing offer — limited time only. CALL TODAY TO BOOK YOUR FIRST SESSION FREE TO SEE THE RESULTS FIRST HAND
______________________________________
LOCATIONS:
CHATHAM 519-360-1331
TECUMSHE 519-979-9440
LONDON 519-601-5476