June 19, 2018
Posted by:

Evolution Studios

Category:

News
   What's New This Week at Evolution Studios
"A big Thank You to Amanda & Gord for bringing Evolutions to Chatham! I completed this program 10 months ago & have kept the weight off. Not only did it exceed my expectations, the one on one counselling helped me achieve my goal & lead a healthier lifestyle!"
Shelley  from Chatham, ON
Recipe of the Week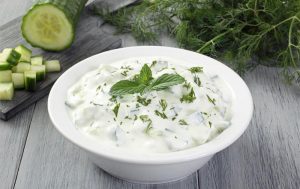 Touchdown Tzatziki Dip
Serves 8
One serving equals ½ Dairy and ½ Vegetable.
Ingredients:
3 cups (500mL) plain nonfat yogurt
3 medium cucumbers, peeled and shredded
3 garlic cloves, minced
2 Tbsp (30mL) lemon juice
1½ Tbsp (38mL) olive oil
3 Tbsp (45mL) fresh mint, chopped
1 tsp (2mL) freshly ground pepper
Instructions:
In a colander, squeeze any access liquid out of the cucumbers; discard liquid. In a bowl, combine all the ingredients. Mix well, mashing as necessary to achieve a smooth consistency. Refrigerate for at least two hours before servings, allowing flavours to combine. Serve with Superbowl Lemon Basil Boneless Wings or fresh veggies and cut whole wheat pitas.
Evolutioner of the Week
Congratulations to our Evolutioners of the Week! Kathleen and Brittany! They are both down pounds and inches, always motivated and ready to rock. Go girls Go!