June 27, 2018
Posted by:

Evolution Studios

Category:

News
 What's New This Week at Evolution Studios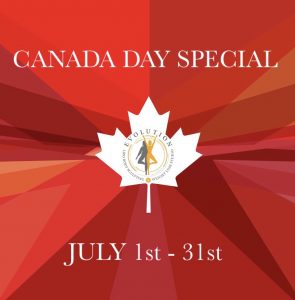 Starting THIS WEEKEND — July 1st Evolution Studios is offering $10 off all product and $50 off any package of your choice! Don't miss out on this amazing deal offered for the ENTIRE month of JULY!!!
Recipe of the Week
Roasted Squash and Vegetable Quinoa
Serves 6
One serving equals 1 starch, 1 ½ vegetable, ½ fat, 1 extra
Comfort food does not have to be greasy and deep fried. This delicious Roasted Squash and Vegetable Quinoa recipe is perfect for those chilly nights!
Ingredients
3 cups squash, chopped
1 tsp. olive oil
½ cup red onion
1 cup cucumbers, chopped
½ cup red peppers, chopped
½ cup yellow peppers, chopped
3 cups quinoa, cooked
Dressing
½ cup lemon juice, fresh
1 tbsp. apple cider vinegar
2 tbsp. honey
2 tsp. olive oil
¼ tsp. oregano
¼ tsp. black pepper
Instructions
Preheat oven to 400ᵒF. Add chopped squash to baking pan and coat in olive oil. Bake in oven for approximately 25-30 minutes, or until squash can be easily pierced with a fork. While squash bakes chop vegetables and place in large bowl. Cook quinoa according to package directions. Add cooked squash and quinoa to bowl of chopped vegetables. In a small jar combine all dressing components, shake to combine. Pour dressing over quinoa and vegetables.
Evolutioner of the Week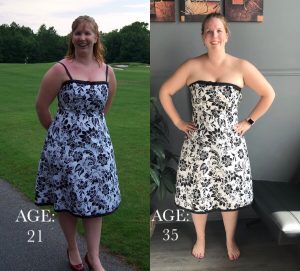 Congratulations to our "Evolution of the Week" Kathleen!!! We are so proud of you. After struggling with weight loss for over 10 years Kathleen has lost over 30 pounds and 20 inches! She is now back into her 21 year old body. Go Girl Go!
_____________________________
CALL NOW TO RECEIVE YOUR FREE SESSION TO SEE THE RESULTS FIRST HAND
CHATHAM – (519) 360-1331
TECUMSEH – (519) 979-9440
LONDON – (519) 601-LIPO