May 15, 2018
Posted by:

Evolution Studios

Category:

News
What's New This Week at Evolution Studios
____________________________________________________________________________________________________________________________________________
GET BIKINI READY WITH EVOLUTION STUDIOS

Chicken Pizza on the BBQ
Ingredients
2 Naan bread
½ tsp. olive oil
6 tbsp. Magic barbecue sauce
2 cups 10oz cubed chicken breast cooked
1/8 cup onions, diced
1/8 cup mushrooms, sliced
¼ cup green peppers, diced
1 oz shredded mozzarella cheese
1 oz shredded cheddar cheese
Brush the edge of the naan bread with olive oil; spread sauce. Top with chicken, onions, mushroom and green peppers and cheese. Grill at medium-high indirect heat until cheese is melted and bread has reached desired crispiness.
Pizza serves four. One serving equals
 ½ protein, 1starch, 1/4 vegetable, 1/2 dairy and ¼ fat.
Evolutioner of the Week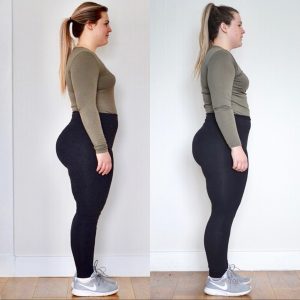 We are congratulating yet another one of our clients, who is now swim suit ready. Amber you have done amazing!!! A big thanks from us, for letting us share your amazing transformation.
Locations:
Chatham (519) 360-1331
Tecumseh (519) 979-9440
London (519) 601-5476