November 27, 2018
Posted by:

Evolution Studios

Category:

News
   What's New This Week at Evolution Studios
______________________________________________________________________
Progress Photo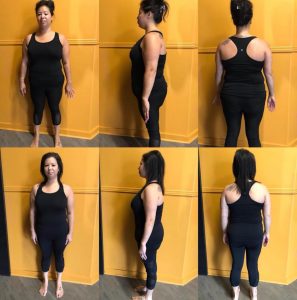 Congratulations to Jen L, who's down 16 pounds and 14 inches so far! We are so proud of you Jen and your determination. A hard working mom of two, wife and support worker. Jen works so hard for everyone else and decided to take the step to focus on her own health for once! Keep it up Jen, let's get you to your goal.
__________________________________________________________________
Why is LED-Lipo so Great?
The best part about the Lipo-Light is there is no bruising, swelling, burning, pain or anesthesia required; essentially NO SIDE EFFECTS!
So what happens to the fat? Once the fat leaves the fat cells, it is transported as free fatty acids to the lymphatic system to be used as energy. Visible results appear immediately and will improve over time. The best part is there is NO PAIN and NO DOWNTIME. In fact lots of patients describe it as "pleasurable as a hot stone massage."
Another benefit of Lipo-Light is that it can boost collagen due to heat. Lipo-Light in point of fact assists in sculpting the body in making the skin firm the process aids in renewed collagen to the treated area.
The Session
As the top of the range our Lipo-Light 16 comes equipped with 16 pads, enabling maximum results from each treatment. Depending on the area of the body receiving treatment, it is recommended that between 4 and 8 treatment pads are used at any one time over each treatment area.
The pads are free moving and held in place against the area to be treated by an adjustable strap. During the treatment, the pads are held directly against the skin for maximum effect. The recommended course is 8‐ 10 sessions, twice per week for 4 weeks.
After treatment, exercise is essential to create the demand for energy which can now be met by the released fatty acids and glycerol from the adipose cells, completing the inch loss process.