October 23, 2018
Posted by:

Evolution Studios

Category:

News
   What's New This Week at Evolution Studios
_____________________________________________________
Here's what some of our camera shy clients want to share about their experience at Evolution Studios
"Best decision I have ever made! I've always had a hart time sticking to things but LED-LIPO made it so I could see the difference every time."  ~ Sarah C  (lost 16 pounds and 14 inches)
"Not only have I lost 23 pounds and 15 inches, I love the vibration workouts.  They have helped relieve my aches and pains and my energy levels are great." ~ Karen B
"Easy and quick!  Felt awesome afterwards!" ~ Kirsten R (lost 8 inches off her waist)
"I only had a few pounds to lose but my thighs wouldn't budge.  With the LED LIPO sessions I was able to lose 5.5 inches on just my thighs.  No I can go away and feel better in my bathing suit."   ~ Sue P
"Fast, Easy and it works!" ~ Barry K (lost 22 lbs and 12 inches)
"I Never thought I would get rid of my lower belly because I thought I had tried everything until I went into Evolution Studios.  The first visit I lost 2 inches and after every visit I can feel my pants getting looser and looser.  Amazing!" ~ Patty K
FAMILY AND FRIENDS PROMO!  ONLY 8 DAYS LEFT.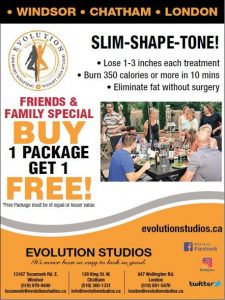 FEATURED PRODUCT!
CLA
LOSE FAT WITH FAT!?   
 Clients who take nutritional supplements containing the fatty acid CLA (conjugated linoleic acid) have found that, when used in conjunction with a plan of diet and exercise, CLA not only reduces body fat but also increases muscle strength and exercise endurance.
CLA is related to the omega-6 fatty acids, one of the two types of essential fatty acids that help the body increase metabolic rates, boost the immune system and keep cholesterol levels in check. CLA is found in dairy and animal fats, such as beef, lamb, whole milk, and eggs, but cannot be produced by the human body.
While studies examined different variables and came up with varying conclusions, the one consistent finding was that CLA helps people lose body fat.
HOW IT WORKS
CLA reduces body fat by increasing basal metabolic rates.  In other words, it helps the body convert food more efficiently into energy. CLA doesn't decrease overall body weight but rather, "it keeps a little fat cell from getting bigger." This can alter the body's fat-to-muscle ratio.
Supplements are the healthiest way to get CLA because they are manufactured to contain a specific balance of biologically active CLA isomers (chemical compounds). "In foods where CLA occurs naturally, like beef and dairy, the CLA is associated with the fat. To get sufficient CLA you would have to eat a lot of fat." CLA is also helpful to people who are dieting in part because the improved results make it easier for them to stick with the diet.
BUY 3 GET 1 FREE